What is MagneSafe?
MagneSafe is a digital identification and authentication architecture that safeguards consumers and their personal data. Designed to exceed PCI regulations, MagneSafe leverages strong encryption, secure tokenization, counterfeit detection, tamper recognition, data relevance and integrity, and dynamic digital transaction signatures, which together validate and protect the entire transaction and each of its components.
A key feature of MagneSafe is MagnePrint® card authentication, a patented, proven technology which reliably identifies counterfeit credit cards, debit cards, gift cards, ATM cards and ID cards at the point of swipe, before fraud occurs. MagneSafe's multi-layer security provides unmatched protection and flexibility for safer online transactions.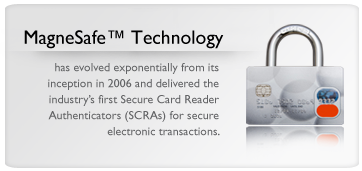 MagneSafe Secure Card Reader Authenticators are characterised by their ability to:
Read and encrypt cardholder data
Generate a unique encryption key per swipe
Mutually authenticate the reader and a legitimate host
Manage time bound sessions
Capture and transmit the dynamic digital identifiers
Generate a unique token of the transaction

Look for the MagneSafe logo at the point of swipe.
There is no stronger, more practical solution available today for consumer protection.
Features
Ideal for PCI 2.0 applications
Triple DES Encryption
DUKPT Key Management
MagnePrint Card Authentication
Secure Tokenization
Device & Host Authentication
MagneSafe 2.0 for seamless integration into an existing software and hardware infrastructure
Masked Data
Unique, non-changeable device serial numbering